Stelia Doz, soprano
Home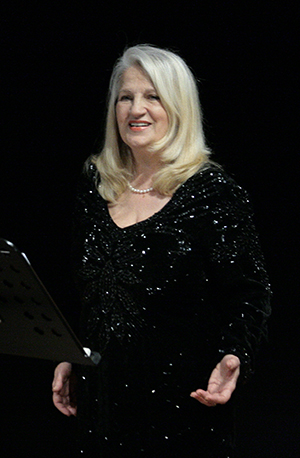 DISCOGRAPHY:
Stelia Doz, Corrado Rojac: L'Armonica a mantice di Giuseppe Greggiati

BIOGRAPHY:
Stelia Doz taught Vocal Chamber Music at Milan Conservatoire from 1996 until she retired. She is currently teaching the Master course for the Italian repertoire of the 1900s in the same school.
She attended piano and singing courses at the Trieste Conservatoire, where she graduated with honours. She won numerous International Singing Competitions including the "Toti Dal Monte" in Treviso and the "Concours International d'Exécution Musicale of Genève" (silver medal). She attended Lied Masterclasses with Elisabeth Schwarzkopf, Anton Dermota and Petre Munteanu.
She performed operatic roles in many major Italian theatres, including: La Fenice in Venice, Teatro Comunale in Treviso, Teatro Regio in Turin, Teatro Massimo in Palermo, Teatro Verdi in Trieste, Teatro Del Giglio in Lucca, Teatro Bellini in Catania, and the Teatri Comunali in Bergamo, Rovigo, Perugia, Spoleto, and other "traditional" theatres. She performed many Lied concerts with important music associations (Settimane Musicali in Stresa, Gioventù Musicale, Festival Internazionale of Marlia, MIA of Bergamo, Festival della Creatività, G.A.M.O. in Florence, Orta Opera Festival, Estate Musicale in Gressoney, Associazione Filarmonica Umbra, Società di concerti of Udine, Pordenone, and Viterbo, Società Letteraria of Verona, Palazzo Chigi-Saracini in Siena, and the Palazzo Labia in Venice).
Her repertoire includes main roles in operas such as "Così fan tutte" (Fiordiligi), "Die Zauberflöte" (Erste Dame), "Le Nozze di Figaro" (Contessa) by Mozart; "Das Rheingold" and "Götterdämmerung" by Wagner (Freia and Woglinde); "Rusalka" by Dvorak (Foreign Princess), "La Fiamma" by Respighi (Monica), "Orfeo" (Euridice) by Monteverdi, "Il Biante" (Almirena) by Stradella, "Il ritratto di Dorian Gray" (Sybil Vane) di Franco Mannino.
She sang with conductors such as Zoltan Pesko, Gianandrea Gavazzeni, Romano Gandolfi, Gianluigi Gelmetti, Edoardo Müller, Miklos Erdelyi, Herbert Handt, and others. She also worked with directors such as Sandro Sequi, Gino Landi, Gianfranco De Bosio, Beppe Menegatti, Filippo Crivelli, Serge Peyrat and Tonino Taglioni, both in opera stage productions and concerts with orchestras.
She frequently performs German and French Vocal Chamber Music of the 1800s, and Italian Vocal Chamber Music of the 1900s, either with an ensemble or in duo with the pianist-musicologist Guido Salvetti, with whom she founded the "Accademia di Musica Vocale da Camera" at the Teatro Comunale in Casalpusterlengo (Lodi) in 2006. In recent years she has been working with the pianist Stefania Mormone.
She recorded for both Italian the Italian radio and television, and for the Swiss RTSI. Together with other Italian singers, she sang in a collection of albums, "The Art of Italian Vocal Chamber Music", an anthology of Italian songs for the recording company "Synnara" in Seoul, Korea. She also recorded the album "Vertici di Romanticismo" for the recording company Limen, with Lieder by Robert Schumann (Liederkreis op. 39) and Mignon-Lieder by Schumann and Hugo Wolf; moreover, for Classica Viva, she recorded the album "In quello stesso 1887: canzoni e melodie" with songs by Giuseppe Martucci ("La Canzone dei Ricordi") and the "Cinq poèmes de Baudelaire" by Claude Debussy.
She regularly holds courses and workshops on international vocal chamber music in Italy and abroad. She held Masterclasses on Vocal chamber music in the 1800s and 1900s at the Hochschule in Munich, Leipzig, Weimar, at the Association Beaux Arts École Normale in Paris and at the Universities of Seoul, Daegu and Pusan (South Korea).
In recent years, from an educational point of view, she created and organised projects and programmes of concert-shows relating to the "Lieder on Stage", including the show "Conosci la terra dove fioriscono i limoni?", with music by Wolf, Schubert, Beethoven at the Sala Verdi in Milan; "Il corno meraviglioso del fanciullo" with music by Strauss, Mahler, Schumann, Brahms at the Palazzo Marino and at the Sala Verdi in Milan, at the Teatro Olimpico in Vicenza and at the Teatro Vittoria, Unione Musicale in Turin, where she worked with the Teatro d'ombre Controluce. She curated the show "La bella molinara", with songs and Lieder by Franz Schubert, Giovanni Paisiello, Ludwig Berger adapted by Milan Conservatoire composition students and performed at the Sala Verdi in Milan, and at the Teatro Olimpico in Rome.
A member of the jury in many competitions (vocal music and contemporary music), she is a member of the Associazione Wagner in Milan, and organises concerts in the Bagatti Valsecchi Museum in Milan.
She also wrote a book for Korean Universities on themes such as: "The poet Gabriele D'Annunzio and his poetry in the music by Francesco Paolo Tosti and Ottorino Respighi"; "Paul Verlaine in Fauré and Debussy's Mélodies"; "The character of Mignon by Goethe in Schumann, Wolf and Schubert's Lieder".
She also wrote the essay "Alcune idee sull'interpretazione del Lied romantico" – "Some ideas on the interpretation of romantic Lied" in the book "I Canti dell'ultimo Schumann", Edition ETS 2007 and the essay "Alcune idee sull'interpretazione del repertorio francese" in the book "Tra poeti maledetti e cabaret (Chausson, Duparc, Poulenc)", Edition ETS 2008.
As far as vocal chamber music is concerned, she taught in the INTERMUSIC Project (INTERactive environment for MUSIC learning and practising), funded by the European Union.
Project coordinator was the Conservatory of Music "G. Verdi" in Milan, whereas partners were the Politecnico di Milano, the Det Kongelige Danske Musikkonservatorium (RDAM) in Copenhagen, the Lietuvos Muzikos ir Teatro Akademija (LTMA) in Vilnius, the Association Europeenne des Conservatoires, Academies de Musique et Musikhochschule (AEC) in Brussels.
The main objective is to create an online shared Platform for the distance learning dedicated to music teaching and practice that will enable modelling and sharing the best training practices for musicians as well as joint courses and online projects.