James Houlik, sax
Home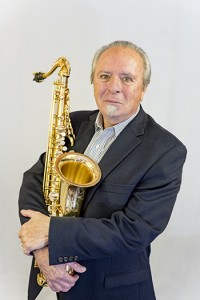 DISCOGRAPHY:
Andrea Padova, james Houlik: VOICES – Ballad & Prayers
BIOGRAPHY:
James Houlik is the leading performer on his instrument in the world. His pioneering efforts on behalf of the tenor saxophone have resulted in the composition of more than eighty-five new concert works for the instrument, and important performances around the world. From the East Room of the White House, to solo appearances with orchestras in London, Prague, Istanbul, Berlin, Chicago, Phoenix, and New York, to recitals in the music capitals of the world, James Houlik has redefined the role of the tenor saxophone.
&nbps;
He has worked closely with many composers to foster the development of a repertoire for his previously neglected instrument. Among the more than 85 pieces composed for are concerti by Robert Ward, Morton Gould, David Ott, Sherwood Shaffer, Eric Ewazen, Walter S. Hartley, Russell Peck, Paul Harvey, Vache Sharafran, as well as dozens with band, piano, and in chamber settings.

Through the years, James Houlik has appeared in such major venues as Carnegie Hall, Lincoln Center, Town Hall in Toronto, The Smithsonian Institution, and London's Barbican. He regularly visits university campuses throughout the United States as a performer and as a teacher of clinics and master classes.

His concerto performances have included those with the American Symphony Orchestra, the Grant Park Symphony, the London Symphony Orchestra, the Phoenix Symphony, the West Virginia Symphony, the San Remo Orchestra (Italy), the Istanbul Philharmonic, the North Carolina Symphony, the Chamber Orchestra of Milan, the New Art Philharmonic of Pretoria, South Africa, the Czech Philharmonic Chamber Orchestra, the United States Navy Band, to mention a few.

With a combination of landmark performances and tireless efforts to build a repertoire for his instrument, Houlik has taken the tenor saxophone to unimagined heights. Moreover, audiences and critics alike have celebrated the remarkable artistic achievements which have placed James Houlik among the leading saxophonists of our time: "Houlik is a genuinely brilliant player" -New York Magazine.

James Houlik is Professor of Saxophone at the Duquesne University Mary Pappert School of Music. He is a Yamaha artist, performing on the Yamaha Custom EX tenor saxophone, a James Houlik mouthpiece, and Alexander Superial D.C. reeds.