Gregorio Nardi, pianist
Home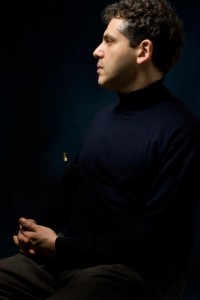 DISCOGRAPHY:
Gregorio Nardi: Percorsi nel recital/visioni oltre il repertorio VOL. 1
Gregorio Nardi: Percorsi nel recital/visioni oltre il repertorio VOL. 2
Gregorio Nardi: Percorsi nel recital/visioni oltre il repertorio VOL. 3
Gregorio Nardi: Percorsi nel recital/visioni oltre il repertorio VOL. 4
Gregorio Nardi: Percorsi nel recital/visioni oltre il repertorio VOL. 5
Gregorio Nardi: Franz Liszt. La nuova musica: Germania e Italia VOL. 6
Gregorio Nardi: Percorsi nel recital/visioni oltre il repertorio VOL. 7

Giulia Peri,Gregorio Nardi: James Simon, Pavel Haas

BIOGRAPHY:
Gregorio Nardi was born in a family of artists and writers. Up to 1987, his teachers were his paternal grandparents Rio Nardi and Gregoria Gobbi, a piano duo formed under the teachings of Giuseppe Buonamici, Ernesto Consolo, Ferruccio Busoni. Perfected his preparation with Thérèse Diette, he was Wilhelm Kempff's last student.
Winner of prizes at the international competitions Arthur Rubinstein (Tel Aviv, 1983) and Franz Liszt (Utrecht, 1986), he performed with many orchestras: Jerusalem Symphony Orchestra, Orchestra Sinfonica di Sanremo, Nederlands Philarmonisch Orkest, Noordelijk Filarmonisch Orkest, Het Gelders Orkest, Frysk Orkest, Limburgs Symphonie Orkest, OSS, Orchestre de la RTL, Deutsche Kammerakademie Neuss, Brandenburger Symphoniker, Leeds Youth Symphony Orchestra, Orchestre de Saintes, Orchestra Academia Szczecin, National Academic Orchestra di Bucarest. Specializing in the practice of original instruments, he was invited many times in France and in Italy by Philippe Herreweghe.
His collaborations range from singers and narrators (Suzanne Danco, Marianne Pousseur, Elena Zaremba, Mark Padmore), to musicologists (Luigi Pestalozza, Gianfranco Vinay) and violin players (Ilya Grubert, Günter Pichler, Renato Zanettovich).
His first Liszt recording (Réminiscences des Puritains) was chosen by J. Methuen-Campbell (Gramophone, 1990), as one of the best recordings of the year. After that, he made two more recordings dedicated to Liszt (Composizioni Religiose and Vom Tode) and, as world premieres, recorded many unpublished compositions by Robert Schumann, Ferdinand Hummel, Arnold Schönberg, and by Italian twentieth-century composers.
Since 1992 he has been writing about the history of piano interpretation for the magazines CD Classica and Musica; and on the Hebrew Composers (The Orel Foundation). He gave Master Classes and university lectures in Italy and Israel; lectures on Busoni and his pupils (Ecole Normale Supérieure de Musique, Paris, 1994) and on Schumann and Romanticism (Scuola Normale Superiore, Pisa, 2000 and 2001); talks on Alberto Savinio (International Conference, Düsseldorf, 2001; Lenbachhaus, Munich, 2002, Kunstmuseum, Winterthur, 2008; Università degli Studi, Milan, 2010), on Arnold Böcklin (International Symposium, Basle, 2001), on Charles Ives (Syracuse University, Florence, 2004; Ecole Normale, Paris, 2005), on the history of Brahms's interpretation (Université Paris8, 2004) on Schumann's manuscripts (Université Paris8, 2010; Conservatoire CNSM de Paris, 2010), on Liszt's paraphrases (Università di Pavia, 2011).
Since 1994, and for more than ten years, he was Artistic Director of the Associazione Musicale di Santa Cecilia at Crevole (Siena). He is a collaborator of the ICAMus (The International Center for American Music) for the diffusion of American classical music. He is a co-founder and artistic director if FLAMEnsemble (an ensemble specializing in contemporary music) and of the Florence Chamber Music Festival, where, in the various editions, special concerts were dedicated to Elliott Carter, Klaus Huber, George Crumb, Salvatore Sciarrino, Henri Pousseur, György Kurtag, György Ligeti, John Cage – with the participation of Klaus Huber e Younghi Pagh-Paan, Ursula and Heinz Holliger, Marianne Pousseur, Salvatore Sciarrino and many others.
In Nardi's repertoire a significant place is held by new, unpublished or unknown works: here belong the extensive explorations of Hebrew composers' works spanning two centuries, and the programs devoted to a few neglected masterworks of the early Romanticism (Alkan, Arriaga, Moscheles, Pinto, Voříšek, Weber …). He premiered many works, in particular the complete Gershwin's Song-Book, that Nardi reconstructed through the evidence and the witnesses of the author's time; the first version of Charles Ives' Concord Sonata, Schönberg's 17 Fragmente, Dallapiccola's Intermezzi dall'Ulisse, transcribed by Donatoni, unpublished works by Brahms, Hans Rott, Busoni and Savinio; and other works, composed for him by Huber, Pousseur, Berio, Vlad, Pritchard, Cavallari.
Fundamental was his research on Schumann's unpublished piano works: following the manuscripts, he performed and recorded (a world premiere) Fantaisies et Finale, Variations Pathétiques, Variationen über ein Thema von Ignaz Ferdinand Freiherr von Fricken, 6 unpublished variations on a theme by Beethoven, Variation zum Preziosamarsch (Weber), Variationen zum Glöckchenthema (Paganini), Sehnsuchtswalzervariationen (Schubert), 6 Fugues, 5 Canons, 6 Walzers, 5 Papillotten, 2 Burle, Je ne suis q'un songe, Scènes Mignonnes, Capriccio, Ecossaise, Notturnino, Ballo, Burla, Fantaisie sovra un tema di quattro note; and the early unpublished versions of Quasi Variazioni, G minor Sonata, Papillons, Abegg-Variationen, Phantasiestücke op. 111.