Eric Hoeprich, clarinet
Home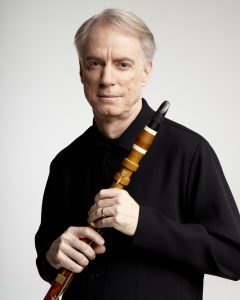 DISCOGRAPHY:
Eric Hoeprich, Luca Lucchetta, Rocco Carbonara (Trio dell'Arcimboldo): Works for clarinet trio

BIOGRAPHY:
Eric Hoeprich is one of the world's leading exponents of the historical clarinet. He was born in Baltimore, MD, and has an honors degree in philosophy from Harvard. He teaches at the Paris Conservatoire, Indiana University's Early Music Institute, and the Royal Conservatory in The Hague. For the past thirty years he has specialized in performing on the historical clarinet. His expertise as a musician, scholar, and instrument maker allows for a unique approach to the solo clarinet repertoire of the eighteenth and nineteenth centuries.

As a founding member and principal clarinet of Frans Brüggen's Orchestra of the 18th Century, Hoeprich has performed frequently as a soloist with this orchestra, as well as with many of the major early music ensembles in Europe, the United States, and Australia under conductors such as Nicholas McGegan, Roger Norrington, Christopher Hogwood, Philippe Herreweghe, and Jos van Immerseel.

Hoeprich's activities as a chamber musician also take him around the world, both with his own ensembles and as a guest with numerous string quartets and pianists. For a recent recording on Glossa of the Mozart Clarinet Quintet (for which he again plays the rare basset clarinet) coupled with the Brahms Quintet, he was joined by the London Haydn Quartet (with the quartet using gut strings and classical bows). His groups Nachtmusique (a Harmoniemusik ensemble) and the Stadler Trio (three basset horns) were both founded in the 1980s: with them Hoeprich has recorded music by Mozart, Beethoven, and Franz Krommer. He is also the author of The Clarinet (Yale University Press, 2008).