Emanuele Segre, guitar
Home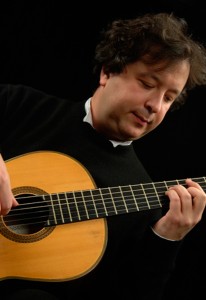 DISCOGRAPHY:
Emanuele Segre: BACH

BIOGRAPHY:
Emanuele Segre, the Italian guitarist, whom The Washington Post noted early as "a musician of immense promise" at his American debut, performs internationally in cities including New York, Los Angeles, Boston, San Francisco, London, Paris, Amsterdam, Vienna, Prague, Berlin, Salzburg, Tel Aviv, Istanbul, Rio de Janeiro, Madrid, Rome, Warsaw, Seoul, Tokyo, etc.
As a soloist he has appeared with Yuri Bashmet and the Moscow Soloists, the English Chamber Orchestra conducted by Salvatore Accardo, the Rotterdam Philharmonic Orchestra, the Zagreb's Soloists, the European Community Chamber Orchestra, the Slovakian Chamber Orchestra and the Süddeutsches Kammerorchester. He has also given his cooperation to the Orchestra of Teatro alla Scala. His chamber music activities include duo performances with Patrick Gallois.
He has participated in international festivals such as the Marlboro Festival (USA), the Bratislava Festival (Czechoslovakia), the "Semaines Musicales de Tours", the "Festival de Radio France et Montpellier" (France), the Bregenz Festival (Austria), the "MITO SettembreMusica" International Festival, and the "Settimane Musicali Internazionali di Stresa" (Italy).
Segre has won numerous competitions, including the East & West Artists Prize in New York in 1987, which allowed him to make his debut at the Carnegie Recital Hall, and, in the same year, the Pro Musicis International Award in New York. In 1989 he was selected for the UNESCO International Rostrum of Young Performers.
Jean Françaix dedicated his concerto for guitar and orchestra to Segre, which he subsequently recorded for WERGO.
He has recorded various other CDs with DELOS, CLAVES, AMADEUS and other record companies.
Born in 1965, Segre studied under Ruggero Chiesa at the Milan Conservatory, and took his diploma with great distinction, "summa cum laude". He has attended Master Classes by Julian Bream and John Williams, as well as pursued studies in composition and violin.
Emanuele Segre is currently teaching at the Conservatory of music in Terni, Italy.