Dino Sossai, violin
Home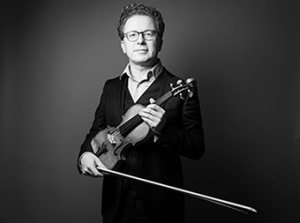 DISCOGRAPHY:
Dino Sossai, Michele Bolla: Rebuilding beauty – Music during the First World War
Dino Sossai, Michele Bolla Great Opera and Ballet Solos – "Pas de Violon"
BIOGRAPHY:
Dino Sossai, born in Conegliano Veneto, Dino Sossai graduated in violin with full distinction at the "A. Steffani" conservatory in Castelfranco Veneto, under guidance of Maestro Michele Lot. He then perfected his studies attending the instrument classes of Dejan Bogdanovich, Marie Annique Nicolas, Kolia Blacher, Victor Pikaizen and, at last, with Tibor Varga and Francesco DeAngelis at the "T. Varga" higher-instruction conservatory in Sion (Switzerland). In 2008 he earned a specialty degree with full distinction and honors in the experimental two-years course at the "G. Verdi" conservatory in Milan. He won many grants, art recognitions by the Lions Club and the Rotary Club, and first prizes in national and international competitions for soloists. In 1995 he was the winner of the international competition for orchestral seats at the Teatro Alla Scala in Milan, chaired by Maestro Riccardo Muti. He won many competitions and auditions for the role of orchestral Konzertmeister, and so he collaborated as first chair or soloist with many Italian and foreign orchestral institutions: Teatro Alla Scala in Milan, Gran Teatro "La Fenice" in Venice, Teatro Lirico in Cagliari, the "Arturo Toscanini" Foundation Orchestra in Parma, Mahler Chamber Orchestra, State Orchestra in Sumen (Bulgary). Violin player of "Quadro Veneto", a piano quartet, he won important awards in Chamber music international competitions (Città di Pinerolo, ARAM in Rom, Osaka Chamber Music Competition, Trio di Trieste), and performed in prestigious venues in Italy and abroad. He made radio recordings for RAI3 and the SWR 2 (Germany) and recorded for Dynamic, Azzurra, LimenMusic. He plays an Enrico Ceruti instrument of 1871. He earned a Ciro Imparato's "Four Voice Colour" Master in Communication as voice-coach, specializing in the new ways of learning and psycho-physical release in the study of musical instruments.