Corrado Rojac, accordion
Home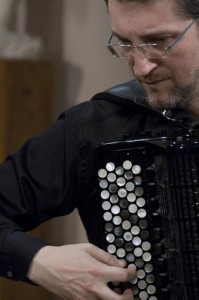 DISCOGRAPHY:
Stelia Doz, Corrado Rojac: L'Armonica a mantice di Giuseppe Greggiati

BIOGRAPHY:
Corrado Rojac (Trieste, 1968) studied accordion in his hometown with Eliana Zajec, then specialized with Mogens Ellegaard, Friedrich Lips, Joseph Macerollo, Hugo Noth and Vladimir Zubickij.
The first Italian to graduate in accordion at a State Conservatory, he is also one of the first teachers of this instrument at State Institutions, first at the Pergolesi Conservatory in Fermo and Campiani Conservatory in Mantua, currently at the Tartini Conservatory in Trieste.
He has played for the most prestigious Italian musical institutions, including the Accademia Chigiana of Siena, the Teatro Regio of Turin, the Arena di Verona, La Fenice of Venice, the Trieste
Società dei Concerti, the Accademia Filarmonica of Bologna, the Istituzione Universitaria dei Concerti in Rome.
He has had numerous successes abroad, including Harvard University Boston, Aspekte Salzburg, Zagreb Biennale, The new music week Bucharest, Second review of Italian contemporary music at the Beijing Conservatory.
He has also contributed considerably to the development of contemporary literature for the accordion, collaborating with numerous composers and presenting various pieces, often even his own, for the first time. Corrado Rojac graduated in Composition at the Verdi Conservatory in Milan under the guidance of Alessandro Solbiati. He devotes himself also to composition; his pieces have been performed in important international festivals, including Nuova Consonanza (Rome) and World Music Days (Ljubljana).
His twenty years of activity with the Divertimento Ensemble in Milan gave him the opportunity to work closely with important composers, such as Sofija Gubajdulina and Toshio Hosokawa; he has also collaborated with the Risognanze ensemble of Milan and the FontanaMix ensemble of Bologna, as well as with established musicians such as the pianist Bruno Canino, the cellist Rohan De Saram and the guitarist Frédéric Zigante. Collaborations with the Agon studio in Milan and the Computational Sonology Center in Padua saw him bring the accordion closer to the world of electronic music.
He also holds a diploma in piano and cello, as well as a degree in the History of Music from the Faculty of Literature and Philosophy of the University of Trieste. His graduation thesis on Giuseppe
Greggiati's method for accordion opens a hitherto unknown historical-philological perspective on the accordion. The music contained in the above mentioned method, preceded by a summary of the thesis itself, is published by Ars Spoletium in the volume 1839: the accordion by Giuseppe Greggiati. The book was reviewed with applause by numerous musicologists, including Quirino Principe.
He has also recorded for various radio and television stations, including the Austrian ORF, RAI, SKYclassica, Limen TV. Important record companies (including Real Sound, Rugginenti, Limen, Stradivarius) have published CDs where he performs as a soloist or chamber musician; all were reviewed with praise by numerous experts, including Angelo Foletto.