Andrea Padova, pianist
Home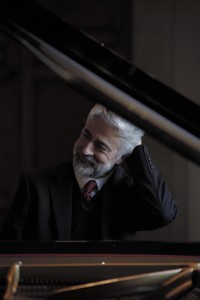 DISCOGRAPHY:
Andrea Padova: MOZART – Complete Piano Sonatas Vol. 1
Andrea Padova, james Houlik: VOICES – Ballad & Prayers
Andrea Padova, Marcello Mazzoni, Camerata RCO: MOZART 1785/1786
BIOGRAPHY:
The Italian pianist, Andrea Padova, studied piano with Vincenzo Vitale, Aldo Ciccolini, Eric Larsen and composition with Franco Donatoni at the Accademia Nazionale di S.Cecilia in Rome. Later he developed his knowledge of 18th century performance practice and that of ancient instruments. At the same time, deeply involved in contemporary music, he collaborated with famous composers, among which Pierre Boulez, Goffredo Petrassi, Franco Donatoni, and Leonard Bernstein.

Andrea Padova first achieved international critical attention when he won the "J.S.Bach" International Piano Competition in 1995. Since then has concertized throughout the world, including New York (Weill Hall at Carnegie Hall), Washington (Washington Performing Arts Society), Chicago, Los Angeles, S.Francisco, Pasadena (Ambassador Auditorium), Montreal, Vancouver, Prague, Munich (Gasteig), Athens, Tel Aviv (Friends of the Israel Philarmonic), Istambul (Presidential Symphony Orchestra Hall), Rome (Radio Symphony Orchestra) and Milan (Teatro alla Scala). Following his New York debut in 1997 the critics praised his "extraordinary gifts, pulsating interpretation, and modern and vibrating conception". His last Washington performance prompted The Washington Post to write "the pianist Andrea Padova turns sound into poetry. His virtuosity, sensitively managed, resounds through every measure".

In addition to the "J.S.Bach International Piano Competition", Andrea Padova has been the recipient of many other prizes both as a pianist ("J.Hofmann", "Ibla Grand Prize", "V.Bellini") and as a composer (Wiener Wettbewerb für neue Musik, Alfredo Casella of the Accademia Chigiana di Siena, Wiener Masters, Concorso Nuove Musiche per Strumenti Antichi, Concorso Gian-Francesco Malipiero and others). His works have been performed at Weill Hall at Carnegie Hall, Accademia di Santa Cecilia, Festival di Musica Antica di Urbino, Wiener Festival für Neue Musik etc.

Andrea Padova records for Stradivarius label. His discs have obtained acknowledgments from critics like Piero Rattalino, Riccardo Risaliti, Jan Hanford and Harold C. Schonberg, who wrote of Padova's first CD, "a strong personality, conviction, freedom, and style". The same CD, dedicated to the Fantasies of J.S. Bach, was named one of the three best piano recordings of 1997 (together with recordings by András Schiff and Murray Perahia) by CD Classics Magazine. His last recording is dedicated to Ferruccio Busoni's original piano works related to Bach. Widely considered as a leading interpreter of Bach and 20th century music, he is no less at home in the classic and romantic repertoire. The Saarbrüecken Zeitung observed that "this versatility marks him as a musician of top rank".